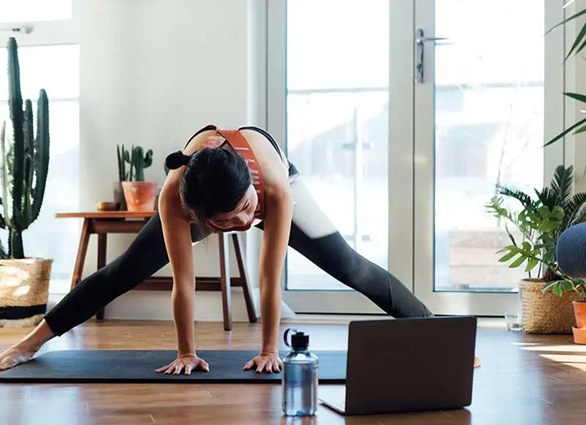 In today's digital age, it's getting easier to do everything online, including yoga. Many individuals go to YouTube yoga channels to proceed with their yoga practice.
Adriene Mishler, Kassandra Reinhardt, Tara Stiles, Koya Webb, Edyn Bryant, Sarah Beth, and Arundhati Baitmangalkar are among the best yoga instructors available on YouTube. To assist individuals in making progress on their wellness journey, these yogis provide a variety of free videos.
You are not the only one who is curious about the strengths of each instructor. Continue reading to learn more about the seven best YouTube yoga instructors.
Yoga's heyday on YouTube:
Yoga was thought to be something you could only do in a studio 15 years ago. It was thought that people who did not have the financial means or other resources to attend classes could not participate in this very popular form of exercise.
With the rise in popularity of YouTube and the Internet, this dynamic has undergone significant shifts. Now, people don't have to pay extra for the internet to watch yoga videos from the comfort of their homes.
Additionally, the recent pandemic has made home yoga a much-needed exercise option for people all over the world. YouTube is viewed as valuable by many yoga instructors as a means of expanding their audience and serving more people.
Yoga videos that can be found on YouTube include:
There are many different yoga videos on YouTube. There are a few key differences that some people use to figure out what works best for them.
The following criteria are included in this:
Yoga style: Vinyasa and Hatha yoga is very popular. Fortunately, a wide variety of traditional and more contemporary variations of yoga are available on YouTube.
Duration: Numerous yoga instructors provide a variety of durations to meet the needs of even the busiest schedules.
Yoga for Particular Objectives: Either you want to concentrate on meditation, or you might have back issues. Regardless, numerous yoga videos on YouTube serve a particular purpose.
Although selecting from the thousands of yoga options available on YouTube may appear overwhelming, these various styles make the process so much simpler.
Which YouTube yoga instructors are the best?
It's a good idea to start your search by considering who is the best yoga instructor among these options.
Unfortunately, there is almost no way to answer that question. You should give different yoga instructors a try to see which one works best for you because preferences vary between people.
Having said that, there are a few highly regarded and talented yoga instructors on YouTube who are generally liked.
The seven best yoga teachers on YouTube:
YouTube instructors, like many yoga instructors, have different strengths and weaknesses.
1. Adriene Mishler:
Adriene Mishler is probably someone you've heard of if you've watched yoga videos on YouTube. This YouTuber is one of the most well-known yoga teachers on the planet and is known for putting YouTube Yoga on the map.
Several details are provided in the video, such as:
Yoga for the duration
Yoga for life
The second yoga challenge
2. Kassandra Reinhardt:
Kassandra Reinhardt is a good instructor if you want to try different styles. She has a lot of experience making videos about different traditional yoga styles so you can find the one that works best for you or make some changes in your life.
3. Tara Stiles:
The well-known Strala Yoga YouTube channel is run by Tara Stiles. She is additionally notable for her pre-birth yoga collection and is well known with hopeful moms.
Before beginning a yoga practice, check with your doctor if you are pregnant. However, Tara Stiles might become a competent YouTube instructor if she obtains this.
4. Koya Webb:
Instructor Koya Webb can be found on both her channel and the well-known Alo Yoga channel. She also posts videos with advice on diet and mental health and has extensive yoga instructor experience.
5. Edyn Bryant's:
Edyn Bryant's channel focuses on making videos that are suitable for plus-size yogis and is focused on accessibility. She is dedicated and talented, and she is working hard on YouTube to make yoga more inclusive.
6. Sarah Beth:
The "SarahBethYoga" channel is led by Sarah Beth, who focuses on providing her followers with a variety of styles and lengths. She has a lot of fans all over the world because of her charming personality.
She might be the right person for you if you want to try new things. She is also suitable for people of all levels, from complete novices to experienced yogis.
7. Arundhati Beitmangalkar:
The well-known "Aham Yoga" channel is run by Arundhati Baitmangalkar, and it focuses on providing in-depth explanations and technical details about various asanas.
The Arundhati Beitmangalkar might be right for you if you're serious about getting better form and staying focused. As a result, many aspiring instructors find that his videos help them improve their practice.
Conclusion:
There are many advantages to practicing yoga on YouTube, but one of the most significant is the opportunity to learn from knowledgeable instructors from all over the world. There are many instructors to choose from in the rapidly expanding world of YouTube yoga.
With free videos, seven instructors appeal to a variety of lifestyles and requirements. Attempting various teachers can take time, yet when you find one that works for you, soon YouTube Yoga turns into a necessary piece of your everyday existence.